Get the TAP-Windows driver
Check whether you have the full installation of OpenVPN software. If yes, you might like to skip this the following steps and directly move on to add another TAP adapter to your Windows system.
Otherwise, please navigate to the Community Downloads of OpenVPN and either get the latest OpenVPN package or if you think that this might be an issue, scroll down a little bit on same page and get Tap-windows package for your system. After the download is complete, run the installation routine and make sure to select TAP Virtual Ethernet Adapter like so: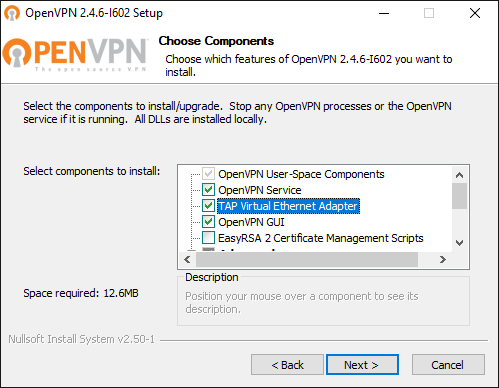 You might have to reboot Windows to complete the network driver installation.
Add a new TAP virtual ethernet adapter
Now, you should be able to add an additional TAP interface to your system and make it available for your new OpenVPN connection. Hit the Start button or press the Win key, then type tap and wait for Windows to give you its matches found on the system. Here is how it looks like on my Windows 10: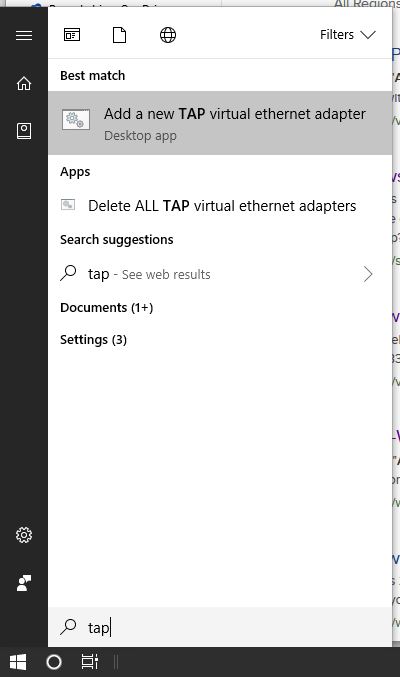 Click on the entry Add a new TAP virtual ethernet adapter and confirm the User Account Control (UAC) dialog with Yes. You then see an administrative command prompt that adds another network interface to your Windows.
C:\WINDOWS\system32>rem Add a new TAP virtual ethernet adapter

C:\WINDOWS\system32>"C:\Program Files\TAP-Windows\bin\tapinstall.exe" install "C:\Program Files\TAP-Windows\driver\OemVista.inf" tap0901
Device node created. Install is complete when drivers are installed...
Updating drivers for tap0901 from C:\Program Files\TAP-Windows\driver\OemVista.inf.
Drivers installed successfully.

C:\WINDOWS\system32>pause
Press any key to continue . . .

And your OpenVPN client is ready to roll.
The shortcut below the Windows Start menu is linked to a batch file which you can also access and launch directly from %ProgramFiles%\TAP-Windows\bin

Note: Ensure to run the batch file with administrative permissions. Otherwise, the driver installation will fail.
Review your existing Network Connections
Perhaps you would like to inspect the existing TAP-Windows Adapters? You find them in the Control Panel under Network Connections.

The adapters are classified as TAP-Windows Adapter V9. Here you can enable, disable or even delete an existing network interface.