SIM Form Factors
SIM cards comes with different standard sizes or forms:
For removable SIM, Form Factor are from 1FF to 4FF (nano-SIM) depending on the size of the SIM
For embedded SIM, Form Factor is MFF2
Below are the dimensions of each form factor:
1FF: 85.6mm × 53.98mm × 0.76 mm – as mentioned, no longer used in today's applications
2FF: 25mm x 15mm x 0.76mm – Mini
3FF: 15mm x 12mm x 0.76mm – Micro
4FF: 12.3mm × 8.8mm × 0.67mm – Nano
Please find below a visual description of the removable SIM: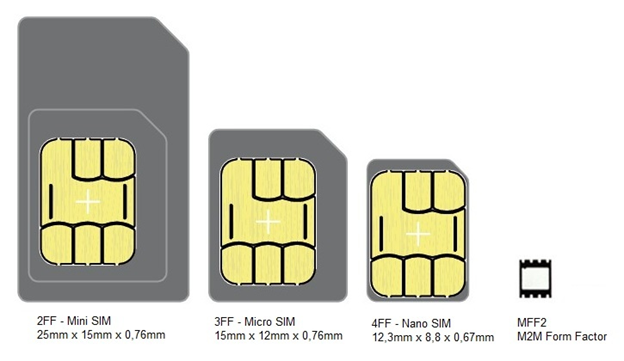 EMnify SIM Use-case
It is possible to select industrial-grade SIMs. These are more robust to safeguard your device from corrosion, vibrations and other environmental factors, such as extreme temperature conditions.
Typically, industrial grade SIMs can withstand temperatures between -40°C and +105°C.
Use Case

DIM Commercial

DIM Industrial

Industrial MFF2

Illustration

Commercial

✓

✓

✓

Industrial

✓

✓
EMnify SIM Specification
Product Range

DIM Commercial

DIM Industrial

Form Factor

2FF/3FF/4FF

2FF /3FF/4FF and MFF2

Operating Temperature Range

-25°C +85°C

-40°C +105°C

Supply Voltage Range

1.8V, 3V and 5V

1.8V, 3V and 5V

Data Retention

Up to 10 years

Up to 15 years at 85°C

Erase/Write Cycles per Page

Up to 500,000 Cycles

Up to 1,000,000 Cycles

Memory

128 kB

128 kB

Usage recommended for

Suitable for indoor applications/ consumer devices e.g. modems

o designed for extreme conditions

o Extended lifespan

o Suitable for outdoor/industrial M2M application

Example Segments

o Home alarms

o Consumer electronics

o Camera alert

o Mobile medical

o Vehicle tracking

o Energy metering

o Vending machine

o Remote control

o Payment terminal