SIM cards comes with different standard sizes or forms:
For removable SIM, Form Factor are from 1FF to 4FF (nano-SIM) depending on the size of the SIM
For embedded SIM, Form Factor is MFF2
Below are the dimensions of each form factor:
1FF: 85.6mm × 53.98mm × 0.76 mm – as mentioned, no longer used in today's applications
2FF: 25mm x 15mm x 0.76mm – Mini
3FF: 15mm x 12mm x 0.76mm – Micro
4FF: 12.3mm × 8.8mm × 0.67mm – Nano
Please find below a visual description of the removable SIM: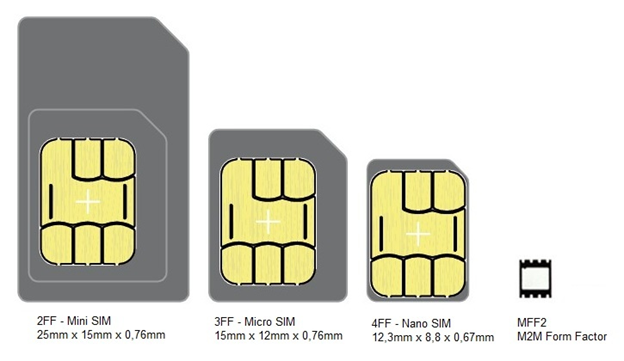 EMnify SIM Use-case
It is possible to select industrial-grade SIMs. These are more robust to safeguard your device from corrosion, vibrations and other environmental factors, such as extreme temperature conditions.
Typically, industrial grade SIMs can withstand temperatures between -40°C and +105°C.
Use Case

DIM Commercial

DIM Industrial

Industrial MFF2

Illustration

Commercial

✓

✓

✓

Industrial

✓

✓
EMnify SIM Specification
Product Range

DIM Commercial

DIM Industrial

Form Factor

2FF/3FF/4FF

2FF /3FF and MFF2

Operating Temperature Range

-25°C +85°C

-40°C +105°C

Supply Voltage Range

1.8V, 3V and 5V

1.8V, 3V and 5V

Data Retention

Up to 10 years

Up to 15 years at 85°C

Erase/Write Cycles per Page

Up to 500,000 Cycles

Up to 1,000,000 Cycles

Memory

128 kB

128 kB

Usage recommended for

Suitable for indoor applications/ consumer devices e.g. modems

o designed for extreme conditions

o Extended lifespan

o Suitable for outdoor/industrial M2M application

Example Segments

o Home alarms

o Consumer electronics

o Camera alert

o Mobile medical

o Vehicle tracking

o Energy metering

o Vending machine

o Remote control

o Payment terminal
Information regarding the barcodes printed on the new SIM cards
EMnify has launched a new SIM version, born out of a conscious effort to reduce plastic production. Any pluggable SIM shipped from July 2021 on (production date 09.06.2021 or newer) will come in the smaller frame format, cutting plastic production by 50 percent.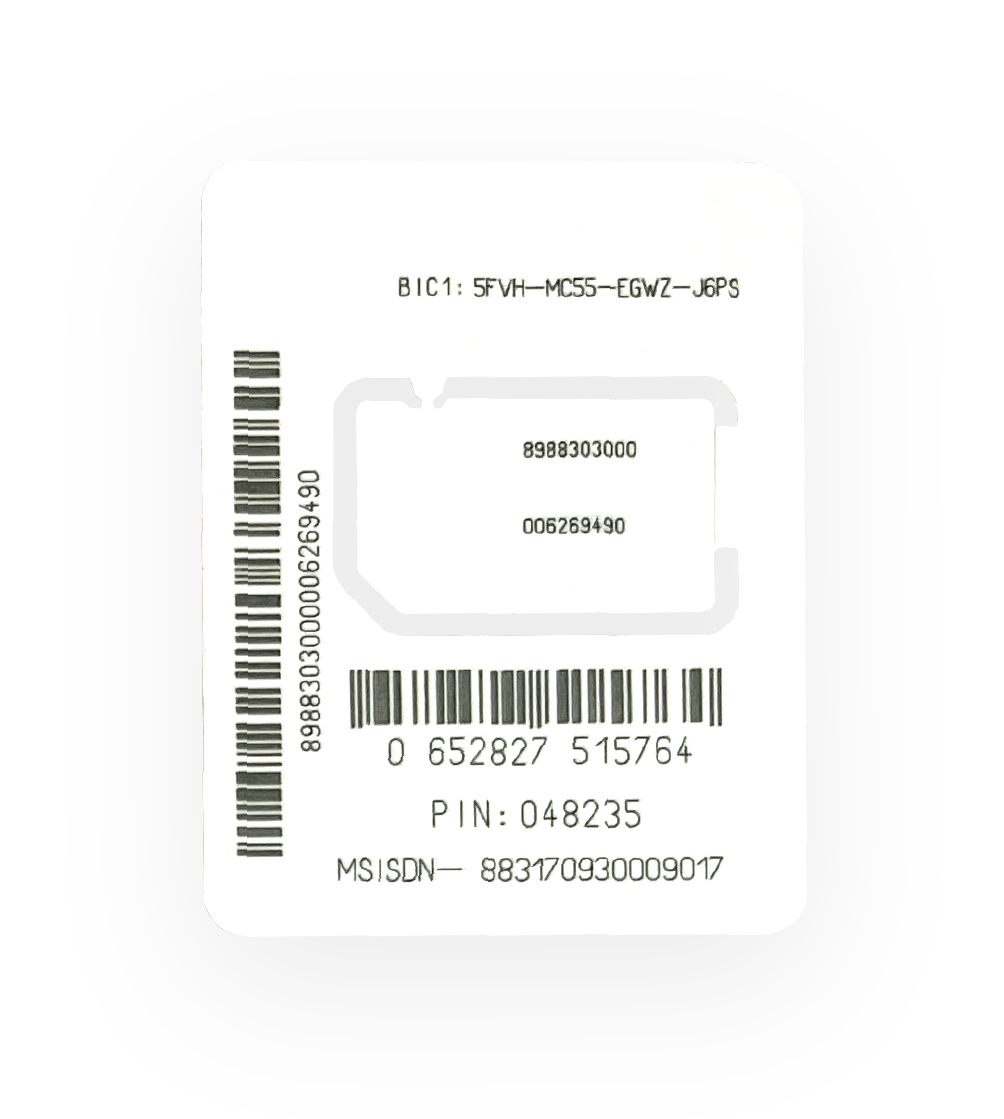 Please consider that The Barcode-128 for ICCID is smaller on the new SIM frame - 35mm x 4mm.
It is printed vertically on the left-hand side of the frame.
The barcode no longer embeds the six-digit PIN code, which is now printed below the EAN-13 BAR code.
If you still have older SIM versions in stock (Credit card size), please consider that they embed the PIN code when using an industrial reader (ICCID+PIN)
Storage guidelines
As long as the SIM cards are stored in their original packaging, you can store the SIM cards for long periods of time (up to 1 year) under these conditions:
Temperature: 25°C +/- 5°C
Humidity: 40% - 60%
Why do all the ICCID start with 8988303?
Each SIM is internationally identified by its integrated circuit card identifier (ICCID). ICCIDs are stored in the SIM cards and are also engraved or printed on the SIM card body during a process called personalisation. The number is up to 19 or 20 digits long, including a single check digit. Each ICCID is starting with and Issuer Identification Number (IIN).
If you are working with several vendors, the easiest method to identify SIM cards belonging to EMnify is by using the first 7 digits: 8988303.