Integration guides for Windows, MAC and Linux
Please ensure you have followed the steps described in our integration guides for Windows, Linux and MacOS:
Frequent disconnections when using OpenVPN
Please ensure that your configuration has the most recent OpenVPN configuration provided on the portal. You can check out Integration guides for Windows, MAC and Linux for the latest OpenVPN configuration.
Please check if multiple users within the company are using the VPN. In case several users are authenticated using OrgID + Token, you will experience disconnections.
In order to setup several VPN connections at the same time for one account, you will need to authenticate using Username + password as credentials.
Users need to have administrator rights on their server to use the VPN.
Unable to connect to OpenVPN via Tunnelblick on MacOs
Symptoms:
Error: Tunnelblick: Disconnecting; user canceled authorization or there was an error obtaining authorization.
The user has tried using both username/password and ORG ID /Auth Token as a method of authentication however still failing.
The user already tried re-installing Tunnelblick but still unable to access.
Solution:
Check if there are any stored username/password in the Keychain. If there are, please delete them.
You can delete them as follows:
Click the Tunnelblick icon, then click "VPN Details…"
Click to select the configuration in the list on the left.
Click the little "gear" button at the bottom of the list on the left
Click on "Delete Credentials from the Keychain"
Tunnelblick will ask you for the username/password the next time you log in. To connect to the region's VPN, you will need to enter the password of your MAC.
Another workaround you may try if you are using the latest Tunnelblick version is to use the OpenVPN version OpenSSL v1.0.2u instead of OpenSSL v1.1.1e which is the default.
If in case that the above suggestions did not work then we recommend installing Tunnelblick version 3.8.1 as workaround which is an older version than the latest release however this is the latest-known working version.
Here's the link where you can download the Installer.
https://tunnelblick.net/downloadsDeprecated.html
If this article does not solve the problem, please contact our Customer Support team.
Issue: "All-TAP-Windows adapters on this system are currently in use" (Windows only)
Check whether you have the full installation of OpenVPN software. If yes, you might like to skip this the following steps and directly move on to add another TAP adapter to your Windows system.
Otherwise, please navigate to the Community Downloads of OpenVPN and either get the latest OpenVPN package or if you think that this might be an issue, scroll down a little bit on same page and get Tap-windows package for your system. After the download is complete, run the installation routine and make sure to select TAP Virtual Ethernet Adapter like so: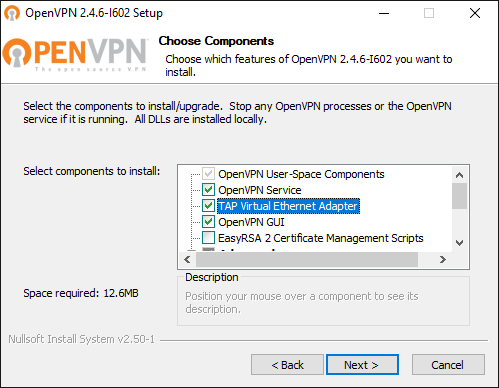 You might have to reboot Windows to complete the network driver installation.
Add a new TAP virtual ethernet adapter
Now, you should be able to add an additional TAP interface to your system and make it available for your new OpenVPN connection. Hit the Start button or press the Win key, then type tap and wait for Windows to give you its matches found on the system. Here is how it looks like on my Windows 10: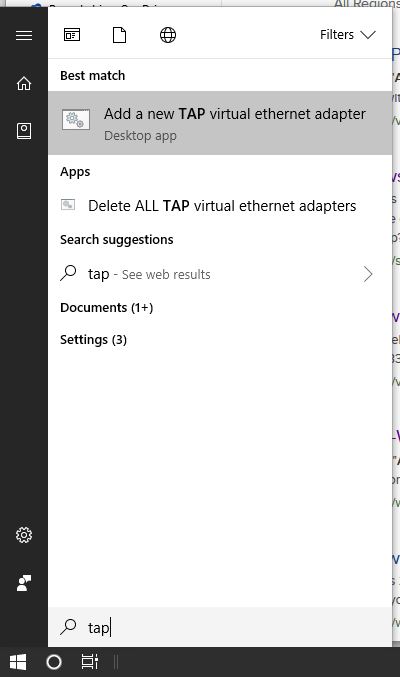 Click on the entry Add a new TAP virtual ethernet adapter and confirm the User Account Control (UAC) dialog with Yes. You then see an administrative command prompt that adds another network interface to your Windows.
C:\WINDOWS\system32>rem Add a new TAP virtual ethernet adapter

C:\WINDOWS\system32>"C:\Program Files\TAP-Windows\bin\tapinstall.exe" install "C:\Program Files\TAP-Windows\driver\OemVista.inf" tap0901
Device node created. Install is complete when drivers are installed...
Updating drivers for tap0901 from C:\Program Files\TAP-Windows\driver\OemVista.inf.
Drivers installed successfully.

C:\WINDOWS\system32>pause
Press any key to continue . . .

And your OpenVPN client is ready to roll.
The shortcut below the Windows Start menu is linked to a batch file which you can also access and launch directly from %ProgramFiles%\TAP-Windows\bin

Note: Ensure to run the batch file with administrative permissions. Otherwise, the driver installation will fail.
Review your existing Network Connections
Perhaps you would like to inspect the existing TAP-Windows Adapters? You find them in the Control Panel under Network Connections.

The adapters are classified as TAP-Windows Adapter V9. Here you can enable, disable or even delete an existing network interface.
If this article does not solve the problem, please contact our Customer Support Team