We are often asked the following questions:
Why I am getting the message "

Location update rejected from SGSN XXX for IMSI XXX. This operator is not part of the selected ratezones. To allow roaming, please enable the corresponding ratezone in the tariff profile

."?

Will my devices be able to connect to a specific operator in a country where I am going to deploy?

Is this operator included in my current data tariff? Do I have to activate an extra zone to have access to that operator?
Here is a step by step of how from your own account in the EMnify Portal you can check this.
Countries

included

in

your

data plan
To find out if your devices will be able to successfully connect to a specific network in a specific country, follow the steps below:
1. In the left side menu at the EMnify portal, select "Device Policies" and then go to "Coverage Policies".

2. In this option, all the device policies created in the portal will be displayed. Select the policy assigned to the devices you want to consult by clicking on "Details".
3. Then, all the zones you have available according to your data plan contracted with EMnify will be displayed. These zones can be activated and deactivated according to your needs.

These zones are designated by color, as follows:
'Green': Main zone with operators included in your tariff.
'Blue': Additional tariff zones: here you will have the option to enable operators that are not included in the main zone. Please, note that data traffic in these zones is charged on a pay-as-you-go basis and will be charged per MB. These zones can also be disabled so that devices cannot consume data with more expensive carriers or in unwanted zones, and in that case, zones will appear in 'grey' colour.
Below this same option you can find the map with all available countries under the same color methodology. You can click on any country to find out which operators are included in your data plan and which are not. You can also use the search bar to speed up your analysis: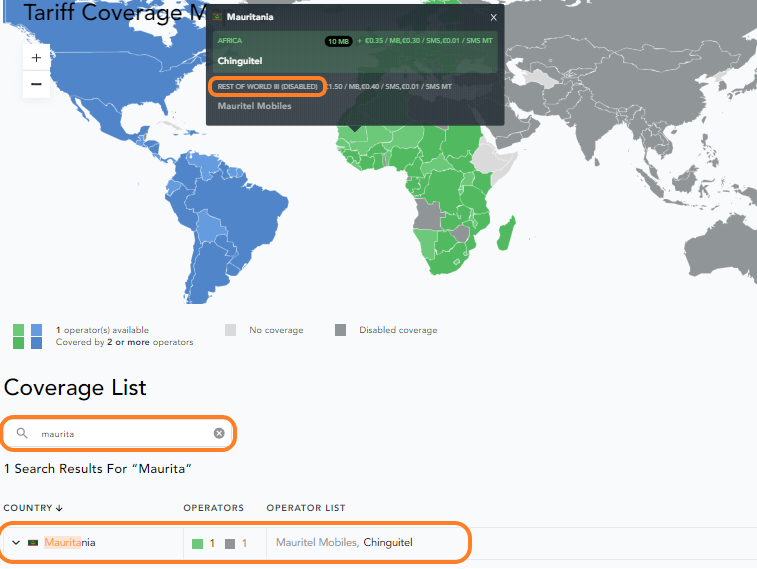 Worldwide Coverage Validation
On the other hand, if you want to know if a device will be able to access a specific network in a specific place, we recommend you to refer to the GSMA coverage page (https://www.gsma.com/coverage/), where you can check by country, the coverage available by operator according to the type of network (GSM, 3G, LTE).
Other links of interest on connectivity
Device configuration guidelines for IMSI Switch handling