If you have ordered a SIM batch (5, 25, 500 SIMs), you will not be able to register their SIMs individually using its own BIC (BIC1) as our database recognises the BIC2 instead of BIC1. You will need to register the SIM batch using the BIC2. If you have ordered MFF2 (Embedded) SIM cards, please scroll down.
If you try to register an individual SIM card from a batch, you will get the following error: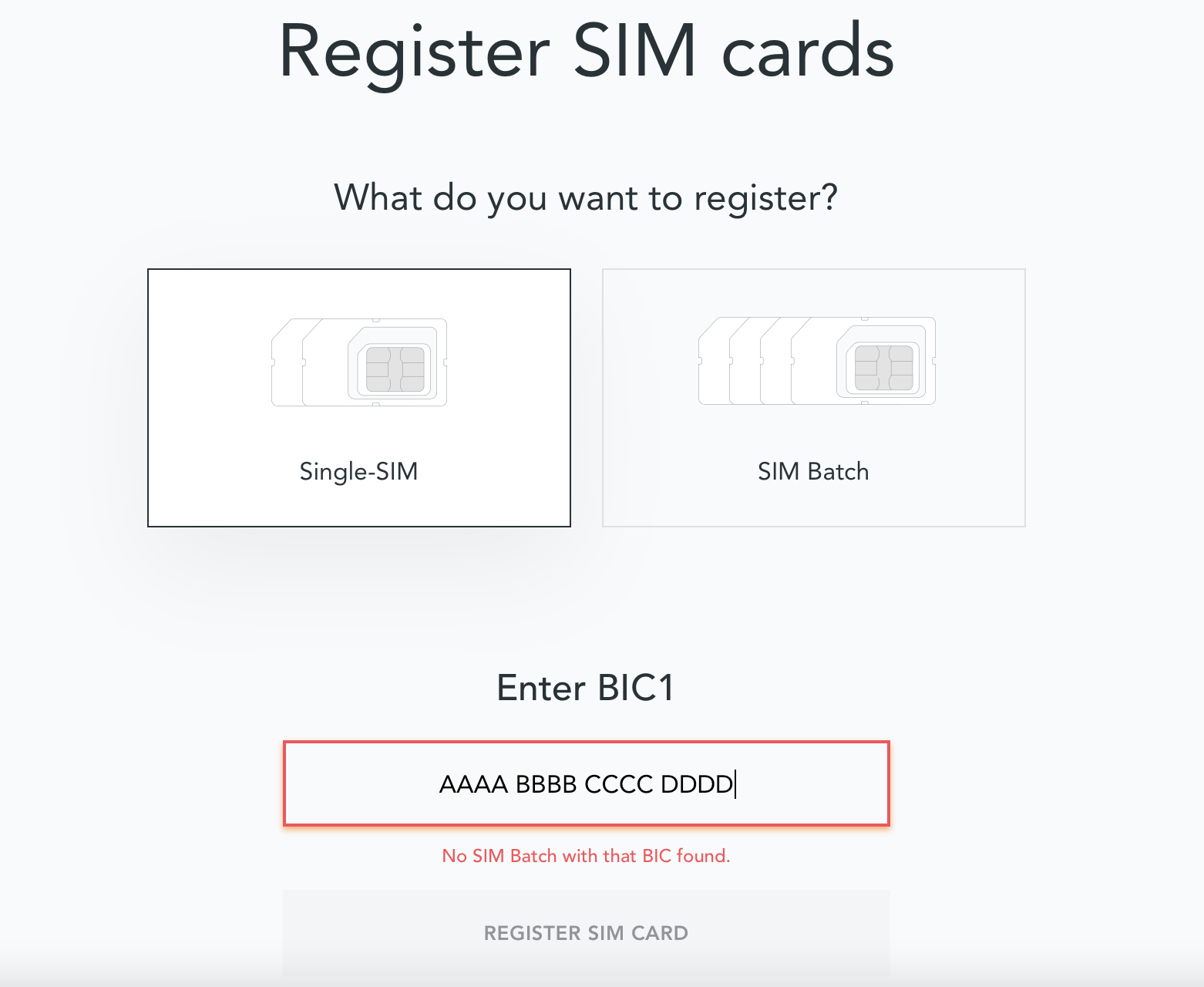 SOLUTION:
Look for the BIC2 which is a 16-character code located on the packaging labeled as

BIC2. The BIC1 code will only work if you ordered single SIMs
If you don't have the packaging anymore, kindly contact our Support Team by engaging via chat, submitting a ticket via the EUI platform or send an email to

support@emnify.com to get the BIC2.
Once you have the BIC2, you can now use this to register the entire SIM batch.
WHERE CAN I FIND THE BIC CODE?
For Individual SIMs the 16 character BIC (Batch Identification Code) can be found on the upper right corner of the card - BIC1.
For SIM Batches (5, 25, 500): the 16 character BIC is located on the packaging written as BIC2.
WHERE IS THE CODE FOR MFF2 (EMBEDDED) SIM CARDS?
Unlike other EMnify SIMs, embedded (MFF2) SIMs do not have BIC as these are being sold preregistered. If you are unable to locate your SIM via the EMnify portal (EUI), chances are the SIMs are yet to be registered.
If you need assistance in registering your embedded (MFF2) SIM, please contact support@emnify.com and provide the ICCID (or ICCID range) of your SIM.
IN CASE YOU ORDERED AN EVALUATION PACK:
Please use the BIC1 printed on each SIM card. You will have to register the SIM cards individually