1. Sign up on the EMnify User Interface (EUI)
To sign up for the EUl, visit EUI Sign Up on your web browser.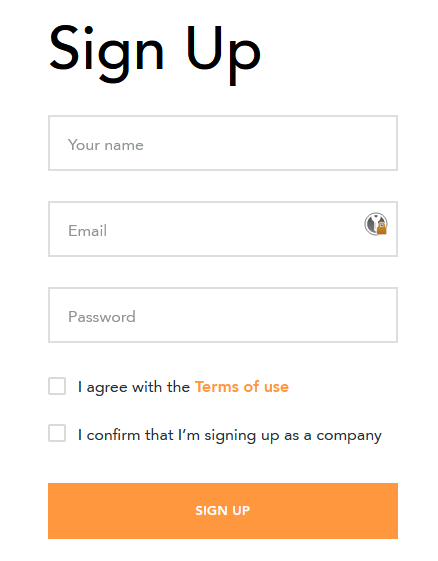 Enter your personal details, choose a password and click "Sign Up". Once on the EUI, you have the possibility to add a few information about your company and why you wish to work with us. You can skip this part if you want.
NOTE: If you were invited to the EUI by an existing organization, you should have received an email with an activation link. Please open the link within 48 hours and choose a password for your account. You will then be able to log in with your email address and chosen password.
2. Ordering, Registering and Enabling SIMs
2.1. Ordering SIM cards
To order SIM cards, click on "SIM inventory" in the left panel menu and on "Order SIMs" on the right hand corner.

2.2. Registering your SIM cards
Once your SIMs have arrived, the next step is to register them. When you register a new SIM or SIM Batch you will have an option to automatically activate the SIM and create Connected Devices using the default configuration.
NOTE: A Connected Device is a representation of a device which has a SIM installed. We recommend that you activate and create Connected Devices during registration.
2.2.1. Locate the BIC (Batch Identification Code)
Individual SIMs: The 16 digit BIC (Batch Identification Code) is on the upper right corner of the card shown as BIC1. It is used to register single SIMs.
SIM Batches (5, 25, etc.): the 16 digit BIC is located on the packaging written as BIC2.
2.2.2. Registration, activation and device creation
Log in to EUI and click "Register your SIMs cards" on the dashboard.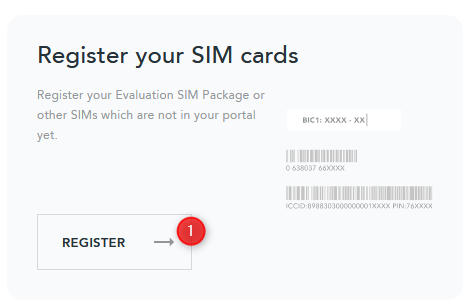 You can register single SIMs using their BIC1 or batches of SIMs using the BIC2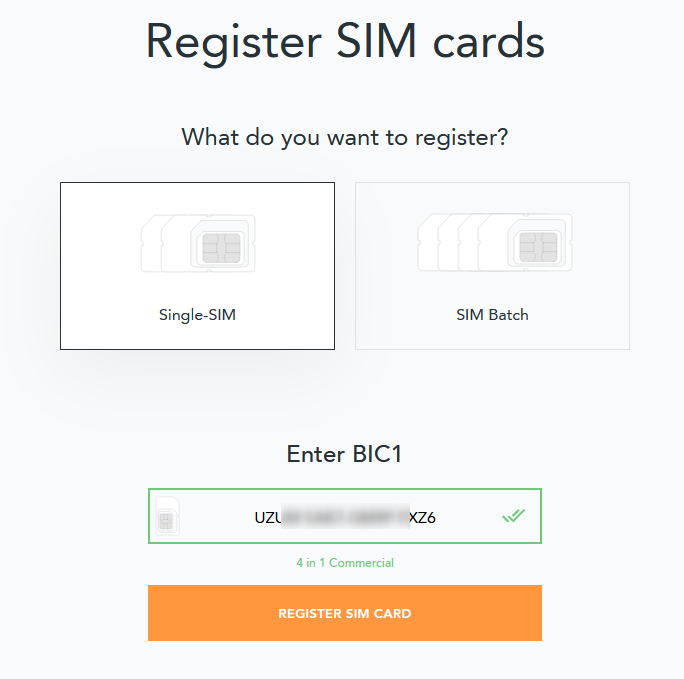 Once the SIM has been registered, you have the possibility to assign it to a device which is recommended since it is a necessary step to get your devices online.

To create a device, give it a name and assign a service and coverage policy. If you plan on using your device right away, activate it. A monthly cost will be charged for each connected device. If you do not plan on using the device right away, select "leave disabled".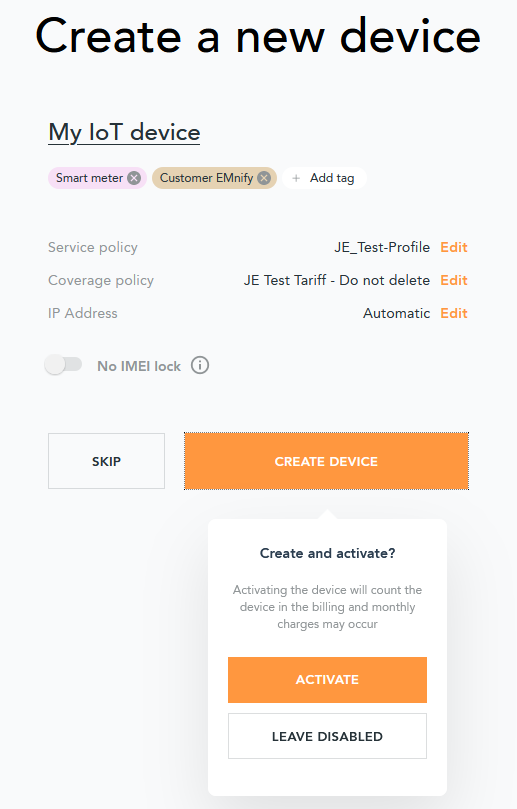 3.1. Insert the SIM into the device
Place the SIM into your device (unless your device has an embedded SIM already), and turn your device on.
3.2. Establish network connectivity
When the device is on, two important configuration changes need to be done on it:
The APN needs to be configured as "em" in order to let the device connect to the EMnify network.
Roaming needs to be enabled.
After that, it will register to a network (no PIN code entry needed). Once it has registered, the connectivity status of your Connected Device in the EUI (under "SIM" menu) will be changed to ATTACHED. SMS and USSD services are now available.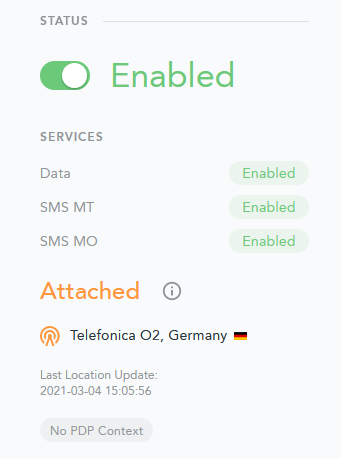 Once your device has established a data session, the connectivity status will again change to "Online". Now the device is ready to send/receive data traffic.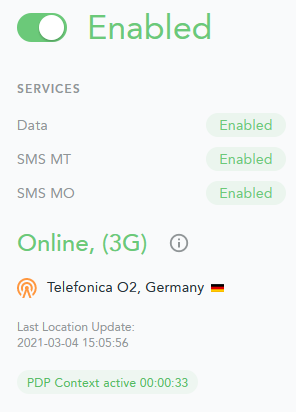 You have successfully enabled your SIMs!
If you have any further questions:
Check our knowledge base where most topics are covered
Subscribe to our EMnify status page.
If you did not find any answer, you can contact our support team via the following channels:
1. Chat. Please log in to EUI and click on the chat button in left/bottom corner, a support representative will be available for who can also transfer your chat to a technical expert as needed.
2. Email. You can reach us at support@emnify.com anytime and your request will be logged in our ticket system and processed by one of our technical experts. To facilitate a swift response, include the following information in your email:
- Your company name
- The ICCIDs of your SIMs in question
- The type of device you are using
- A short description of the issue
- A phone number where we can reach you
3. Phone. You can call us at +49-30-5557333555, make sure you have the ICCIDs of your SIMs available. We handle support requests according to their severity: